This hard cheese, with its pale yellow color, thin, dry skin, compact elastic mass, characteristic small scattered holes, fine aroma, sweet and delicate taste and very characteristic aftertaste has for years gained the reputation as a from the two main products of our island (the other one is the Naxos PGE potato) and one of the top Greek cheeses, while it is ideal for all uses (table, for rubbing, for saganaki, etc).
Hard cheese, golden yellow in color and cylindrical in shape, our smoked gruyere is produced from a mixture of cow's and sheep's milk, at a rate of 80% minimum and 20% maximum respectively. The smoked gruyere has a beautiful aroma and smoky taste.
Mixing sheep and goat milk and using traditional rennet, you produce Kefalotyri Naxos! It is a hard, yellow cheese, with relatively thin and hard skin and a spicy, salty but pleasant taste and rich aroma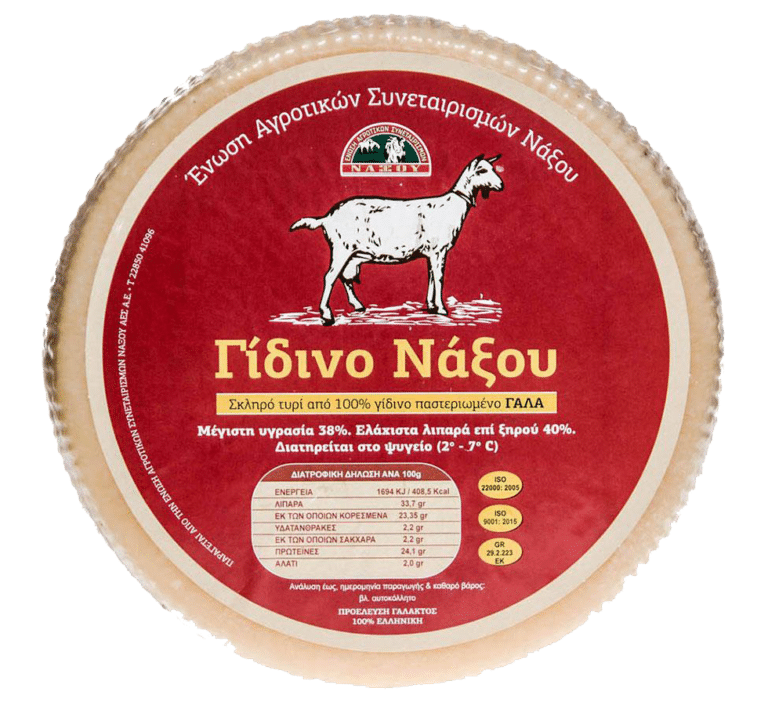 Hard cheese, pale yellow, is produced from 100% goat's milk and in fact is one of the few goat cheeses in Greece that is not white, but yellow and hard. Also, its special, spicy taste makes it ideal for our guests who do not consume other cheeses (cow-sheep).
Three different types of milk join their… tasting forces to produce the Mountain cheese of the Union of Agricultural Cooperatives of Naxos! Specifically, for the production of this hard with the rather spicy taste of cheese, 33.33% cow's milk, 33.33% sheep's and 33.33% goat's milk are used
From the whey that is boiled and with the addition of a small amount of fresh milk, the sweet mizithra is produced. It is a soft cheese, with a mild taste and unsalted, ideal for a diet without almost any fat
This hard and pale yellow cheese is produced from 80% cow's and 20% goat's and sheep's milk, while the mixture of herbs it contains gives it its characteristic spicy taste. The mixture of herbs and spices in this cheese consists of: oregano, thyme, thrips, Chinese citric acid, sugar, white pepper, black pepper, nutmeg, Indian curry, mustard seed, coriander, paprika, tomato powder, tomato powder , cedar, dehydrated onion, fennel seed, boukovo sweet, boukovo hot, cumin, basil, dehydrated parsley and mint